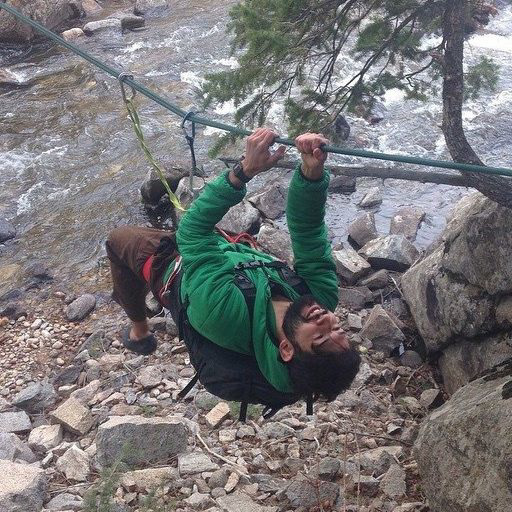 Other stuff I do:
Climbing, trail running, hiking, camping, fixing up vintage mopeds, and eating Mexican food.
Fact:
I won 1st place in a statewide Dance Dance Revolution competition.
Past jobs:
Cashier, Photo developer, Stock person, IBM tape librarian, Flower delivery man.
Work:
Sukle Advertising and Design | Denver, CO.
Senior Copywriter
April 2017 - Present
Great Outdoors Colorado, Gates, Irvine Ranch Water, Cody Tourism, ACE Scholarships
Cactus | Denver, CO.
Senior Copywriter
Dec. 2013 - April 2017
Colorado Lottery, Odell Brewing, University of Colorado Health, Spectrum Reach, Denver Zoo, Colorado Department of Health and Education, Man Therapy, Bhakti Chai, Smartypants Vitamins, Lyra Health, Gaia TV 
Barnhart | Denver, CO.
Copywriter
Dec. 2012 - Dec. 2013
Wyoming Tourism, Wyoming Dept. of Health, Grand Teton Lodge Company
gyro | Denver, CO.
Copywriter
Oct. 2011 - Dec. 2012
Wow! Cable, TW Telecom, Ice-o-matic, Johns Manville
Crispin Porter + Bogusky | Boulder, CO.
Interactive Copywriter Intern
Jan. 2011 - Apr. 2011
Education:
The university of Colorado at Boulder
B
.S. Advertising
Philosophy Minor
2010
Awards:
ADDY National Silver
OBIE Gold + Silver
Denver 50 Judge's Choice
ADCD Top Honors
Adweek
Creativity Online
ONE SHOW College Competition Silver Pencil
Young Glory Silver
One Show Student Exhibition
CMYK #47 Top 100 New Creatives
Leo Burnett Scholarship
Contact:
Email: lambert.ricky@gmail.com
Twitter: @lambertricky
Words With Friends: thericky